Plus the world's most expensive vanity plate just auctioned for US$15 million
Article content
Welcome to our round-up of the biggest breaking stories on Driving.ca from this past week. Get caught up and ready to get on with the weekend, because it's hard keeping pace in a digital traffic jam.
Article content
Here's what you missed while you were away.
Toronto considers upping illegal left-turn fines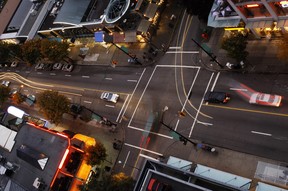 The deputy mayor of Toronto is pitching the idea of increased fines for drivers who make "improper stops" at busy intersections. Currently, the ticket for being that chump who crowded an intersection trying to make a left turn behind somebody who actually had and deserved to be there, is $85 — the proposed increase would bump that up to $450. It would also raise the fine for an improper stop in a community safe zone from $120 to $500. 
As far as columnist Lorraine Sommerfeld is concerned, a bigger stick may be the right tool for this scenario where drivers seem to have lost respect for others like pedestrians and cyclists who share parts of the roads. But will a police officer pulling over offenders near the city's busiest intersections help or hinder? Click here and read until the end to see Sommerfeld's simple and elegant proposed solution. 
Article content
Has motorcycle culture gone soft?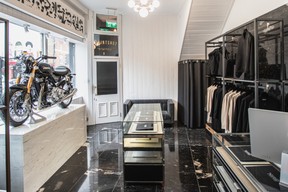 If you're looking for signs that motorcyclists have changed, look no further than the "ateliers" many of them now shop in. One shining and shimmering example of such an 'elevated' vendor is Norton's new location in London, England, which Motor Mouth David Booth says is "like the interior of a Gucci shoppe." Triumph, too, is aiming high with its new Bonneville T120, which commemorates a partnership with the Distinguished Gentleman's Ride, essentially "a bunch of hipsters who don silk vests and tweed jackets and otherwise channel their inner T.E. Lawrence."
The bike itself has a stitched seat, hand-laid pinstriping, and some special paint, but otherwise is still a standard T120. Check it out at the link above. 
Article content
Was this restoration of a rare Maserati an act of creation or crime?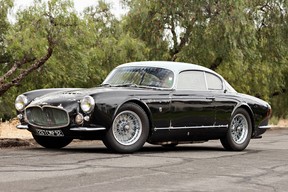 Here's a discussion topic for your next rare car meetup: was the restoration put on this one-of-four 1956 Maserati a thing of beauty or a crime against history? Because opinions will vary. 
The car in question is a 1956 Maserati A6G/54, bodied by Italian coachbuilder Frua. Its current owner recently decided to do something about its deteriorating state — "The paint wasn't even staying on the car anymore" — and hired Vancouver's RX Autoworks for a full restoration. That's when the comments started coming in, some saying the work would delete history and others claiming it would result in concours recognition and an even bigger price tag. The debate is ongoing, so go ahead and take sides in the comments section. 
Article content
World's most expensive licence plate auctions in Dubai for US$15M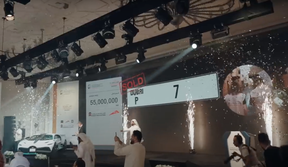 It probably didn't cost more than $10 to fabricate, but now this rectangular piece of metal has been sold at an auction to become the most expensive licence plate ever. A collector bid US$15 million for the vanity plate reading "P7" at a charity event, where proceeds went to Dubai's global food aid initiative, the 1 Billion Meals Endowment. The bid, placed by an unnamed individual, beats out the previous record held by local businessman Saeed Abdul Ghaffar Khouri, who paid 52.2 million dirhams (US$14.2 million) in 2008 for an Abu Dhabi plate bearing the number.
Single-digit plates are a sign of wealth and status in the middle eastern country, with some luxury hotels refusing entry to anyone who drives a vehicle with a plate with more than two digits.
Article content
Six of the most affordable and reliable vehicles in Canada, but did Canadians buy them?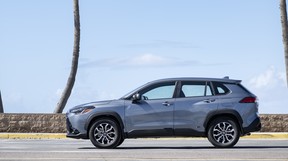 Whether you're looking for a reliable and affordable all-wheel-drive car or SUV, there are some great options currently available in Canada. And, in fact, we've got a list of those exact vehicles, separated by segment. Options include the city-friendly hatchback, the 2023 Subaru Impreza, which is a great drive and is even available with a manual transmission; the 2023 Toyota Corolla Cross, which acts as a roomier and even more family-centred version of the Corolla sedan (also on the list) and has been given a perfect five-out-of-five from Consumer Reports for reliability; and the 2023 Lexus RX, a fifth-generation SUV with a hot interior and a hotter drive-feel thanks to a potential 367 hp on tap. 
Article content
But did Canadians buy these reliable nameplates in 2022? We also compared Consumer Reports reliability rankings to the Canadian sales numbers to learn where the smart money was being spent. And while there was some brand crossover with Toyota and Lexus, the most popular by sales of the 'reliable' vehicles in Canada didn't include any from the above mentioned vehicles. Reliable vehicles included the BMW 3 Series, the Mazda MX-5, and the Toyota Prius. Learn more here. 
SUV Comparison: 2023 Toyota Highlander vs 2023 Kia Telluride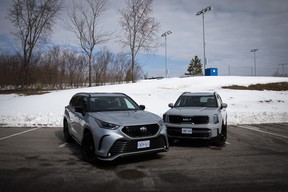 Two new three-row family SUVs, two Driving experts. It's time to get specific with the 2023 Toyota Highlander and Kia Telluride. (Don't feel like reading? There's also a video review.)
Article content
Clayton Seams and Stephanie Wallcraft took the pair of mid-size SUVs out for a side-by-side test drive to compare the refreshed goodies inside and onboard. The styling and tech upgrades for the Highlander include a new turbo four-cylinder, the latest infotainment with wireless Apple CarPlay and Android Auto. The biggest news with the Telluride are its two new trims (the top-tier X-Pro and the tested X-Line), and the addition of two 12.3-inch screens for the digital instrument cluster and infotainment system. 
The two Driving experts compare drivetrain, interior, tech, and more, and eventually do pick a winner between the two SUVs. Find out which they preferred right here.