Brantford's Holly Varey part of Royal Enfield Build, Train and Race program
Article content
Brantford motorcycle racer Holly Varey had the experience of a lifetime this summer taking part in Royal Enfield's Build, Train and Race program in the United States.
Article content
And even though the 37-year-old didn't win a race, she felt like she came home a winner.
Article content
"It exceeded everything I could have imagined," said Varey.
"I kind of won already when I got accepted to the program and I also won because I got to train with Freddie Spencer and I made some of the best friends I've made in my entire life and they will be friends for life.
"All of those things are the real big take homes for me."
Getting into the prestigious BTR program was an achievement based on a lifelong passion Varey has had with motorcycles.
"I've been riding motorcycles my whole life," she said.
"I'm a fourth generation motorcyclist. My grandparents (Florence and Bert Harris) on my mom's side had a motorcycle shop in the 1960s and '70s and that was a huge influence on me."
Article content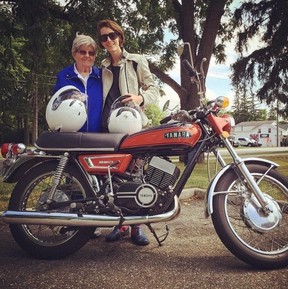 The Harris' store – West Street Cycle – was more than just a motorcycle shop, it was actually where her mom, Bonnie, and dad, Jody, met. Bonnie worked at the shop and Jody was a customer. The two got to know each other and eventually married.
Varey grew up riding recreationally and attended vintage races when she was young but she never had a strong desire to ride competitively.
Once Varey entered adulthood, she travelled with her then partner to tracks in Canada, the U.S. and Europe as a member of the pit crew. It was at that point that she decided she wanted a piece of the action.
"When I turned 30, I decided I was going to stop being on the sidelines and I did a race school at Shannonville Motorsports Park," she said. "I was hooked."
Article content
The one thing she did want to do when she was younger was race in a sidecar, which she did. Eventually she reached out to a racer and old friend – Gary McCaw – and a partnership was formed.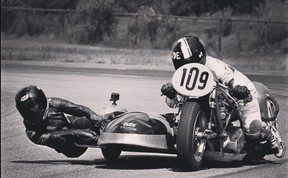 "He got his first motorcycle from my grandparents back in the '60s so there was already a great rapport," said Varey, who started racing right around the age of 30.
"We've been racing together now for seven seasons."
Varey has raced a 1966 Ducati Mach 1 and more recently a Velocette 500 single Alan Taylor Special. Both are unique bikes, particularly the Alan Taylor which is totally custom with no other bike like it in the world.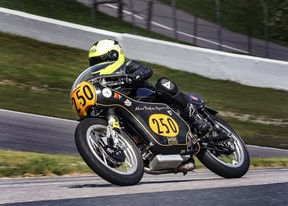 Enjoying quite a bit of success while competing in the Vintage Road Racing Association, Varey didn't hear about the BTR program until the application process was a few days from expiring.
Article content
She quickly submitted an application and did an interview a couple of weeks after sending it in. In the middle of March, she found out she was one of 12 riders selected from 96 that would take part in the program.
"Oh my God, it was surreal," she said.
"I kind of didn't know what to expect. I had agreed to and was embarking on this adventure, not really knowing what I was getting in to."
The BTR program sees handpicked competitors build, train and ride a Continental GT 650. This was the third season the program has run and it involved all new managemen,t including former world champion racer Freddie Spencer.
"Being able to work with some with such expertise was amazing," said Varey. "When I was looking into the program, that was a major influencer in my decision to apply."
Article content
The program began in April with the build. Varey and the other competitors flew to Texas and over four, 10-12 hour days, they put the bike together.
"It was a big job," she said.
"I would say it took us somewhere between 40 and 45 hours to do it. It was the sort of thing you do over the winter in your garage."
Following that, riders trained for two days at a track in Cresson, TX.
"It was amazing," said Varey. "It was tough because we were all pretty beat from building the bikes. There was an incredible learning curve."
Riders then flew home and in June the first race was held at Road America in Elkhart Lake, WI. That track, which is 6.5-kilometres, is one of the biggest in North America.
"It was absolutely epic in every way," said Varey, who had a sixth-place finish in Race 1 of the doubleheader while 41,000 spectators looked on.
Article content
There were four event stops and seven races overall and Varey believes she was eighth or ninth out of the 12 riders.
"I've been very fortunate to do some pretty amazing things in my life . . . this is very much near the top," she said.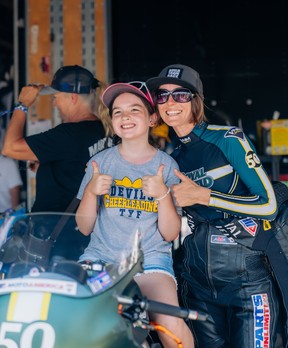 In October, she'll head to the Barber Vintage Festival in Birmingham, AL. Varey would like to get herself a small bike of her own to race in Canada, the U.S. and possibly Europe.
There seems to be no slowing her down.
"It's been in my blood for a long time," said Varey, who currently works at Dualsport Plus, which is just down the road from her grandparents' original motorcycle store.
"There's still lots to learn and lots to experience. There are so many things I'd still like to do."