Article content
While automotive companies are trying to solve the riddle of cheap, sustainable electric mobility, they're now running up against the looming challenge of doing it largely with domestic content beginning in mid-2025.
Article content
Companies not only having to think about where they source their parts and materials, but whether they can build something at all that will still meet the domestic content rules.
Article content
"It's actually starting to affect the designs," said Magna International's director of electrification in North America Mike Dowsett.
"We really have to design this product to use USMCA components. The engineers are being told don't design something that comes from the other side of the world because we're governed by USMCA."
The USMCA's domestic content rules will require 75 per cent of vehicle content to be classified as being built or sourced in North America. In an effort to raise wage rates in Mexico, the labour provisions of the agreement also set minimum hourly rates to qualify as domestic content to avoid tariffs.
Article content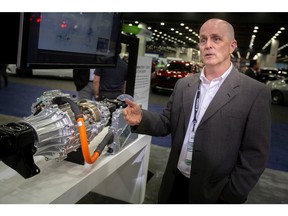 An added incentive is the substantial tax breaks and rebates being offered by governments for electric vehicles which meet those domestic content rules.
Though he's not privy to Magna's employment prognostications, Dowsett expects the USMCA rules to result in more automotive manufacturing having to be done in North America.
"In theory (manufacturing employment levels in North America) should rise," Dowsett said. "That's the whole point of the USMCA isn't it, to protect jobs?"
Dowsett points to the new drop-in electric axel Magna has created for use with existing OEM platforms as a prime example of the challenges companies are facing with domestic content regulations.
"There almost certainly is," said Dowsett when asked if the new axel has any Canadian content.
Article content
"With this product we have to achieve 75 per cent USMCA content and that's tough.
"Because we still use rare earth magnets in here (that come from China), that's a big part gone. About 20 per cent of it is gone on the magnets, so everything else has to come from Mexico, U.S. or Canada.
"My purchasing team is only looking in Canada, U.S. and Mexico. They can't go buying it from other parts of the world because we have to hit that 75 per cent number."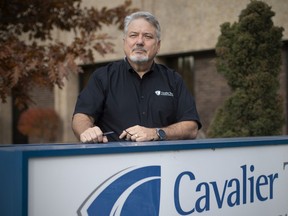 Cavalier Tool and Manufacturing general manager Tim Galbraith said similar preparations are taking place in Ontario's automotive supply chain.
"Our goal is to repatriate as much as possible at a price point that we can compete with low-cost countries," Galbraith said.
"Anybody not trying to get ahead of the curb (on domestic content requirements) is going to fail. If you're not prepared, you won't be able to react."
Article content
The Windsor-based company has brought some of its offshore manufacturing back in-house.
For example, it has created a new department to produce all its own ejector boxes and is expanding its Windsor operations to produce an array of smaller parts that used to come from offshore.
The expansion will eventually result in double-digit numbers of new jobs of the high-skill variety to operate the automated machinery.
Galbraith said Cavalier already will be able to meet the domestic content rules of the USMCA.
"Our offshore content is dwindling rapidly and is probably in the single digits percentage wise," Galbraith said.
"We're doing it not for reasons of legislation, but for reasons of sound business commerce."
Article content
Galbraith said adding automation and controlling its supply chain risks and costs are helping the company to become more competitive and improve quality.
He noted customers are now looking more at total costs and support out the backend than just a cheap price up front.
Galbraith said after losing a large bid last year to an offshore firm, the southern U.S. company awarding the contract called Cavalier Thursday seeking an updated bid to replace the tooling.
"They said the quality of the product and the support we require for us to meet our customers' needs is not there with the offshore content," Galbraith said.
"They said we have to replace it now and we're going to replace it with Canadian tooling (Cavalier).
"I'm speaking for the Canadian tooling industry as a whole when I say we aren't the cheapest guys around but, with the quality and cost per unit when you put your unit out the back door, we're lower."
Article content
New NAFTA provisions applauded for removing some uncertainty in auto sector

Ottawa says proposed U.S. EV tax credit could harm auto industry
Galbraith added Southwestern Ontario's manufacturing renaissance will also be fuelled by the creation of an entirely new strand of the automotive supply chain with the building of the NextStar Energy battery factory in Windsor.
The plant is a joint venture between LG Energy Solutions and Stellantis.
"Getting the plant and 2,500 jobs is wonderful, but that's just the seed that's been planted," Galbraith said.
"It's all the plants that feed the battery factory, the spinoffs for other businesses and the companies supplying raw materials, that's the big win for southwestern Ontario's key players."
[email protected]
twitter.com/windstarwaddell