There were three Trident sports cars – Clipper, Tycoon and Venturer – but Trident Cars Ltd of Ipswich wouldn't have existed without TVR. It's a tale of two Trevors (sort of), bankruptcy (inevitably) and Anglo-Italian cooperation.
The story starts at the 1965 Geneva Motor Show, when TVR (that's the first TreVoR) unveiled the Trident sports car. Designed by Trevor Fiore (that's the other Trevor, also known as Trevor Frost), the Trident was fitted with a Ford 4.7-litre V8 and had a top speed of 134mph. For the Blackpool firm, the Trident represented a move upmarket, with Fiore reworking a design he'd originally proposed to Lea-Francis in 1961.
How much is your car to insure? Find out in four easy steps.
Get a quote
In America, Jack Griffith was helping to put TVR on the map. The car salesman turned entrepreneur, who held a chain of dealerships and went on to sell TVRs, came up with the Grantura-based Griffith 200, which he co-created with importer Dick Monnich, to take the fight to the Shelby Cobra.
With the company's standing improving, it was time for an all-new model, and Jack Griffith was an influential voice who had TVR's ear. He argued that a new model rather than a reworking of the Grantura, made sense if TVR wanted to stand alongside Aston Martin and Jaguar. Griffith played a key role in the development of the Trident, having rejected the original proposals, insisting on a V8 engine and a soft-top.
A lengthened Grantura Mk3 chassis was used to house the 4.7-litre V8, with a pair of Trident coupés built for the Geneva show – one for Britain and the other for America. Although it failed to attract the attention of the British Pathé reporter, the Trident was well received, with its fashionable Italian styling catching the eye. In spec and styling terms, the Trident fell somewhere between Aston Martin and the Jaguar E-type.
Three coupés and one convertible were built by Carrozzeria Fissore in Italy, but the bankruptcy of TVR's parent company Grantura Engineering meant that the Trident never reached production. At least, not wearing a TVR badge.
Arthur and Martin Lilley stepped in to form TVR Engineering Ltd, but not before an enterprising TVR dealer in Suffolk had seen the potential of the Trident. Bill Last owned Viking Performance of Ipswich, which created Sprint, Sport and GT variants of the Wolseley Hornet and Ford race engines for Frank Nichols of Elva Engineering. Last had been approached by TVR with a view to buying the company, but he only had eyes for the Trident.
Having secured the design rights from Fiore and brokered a deal with Fissore for the original body, Last created Trident Cars Ltd. In the meantime, Arthur and Martin Lilley had taken control of TVR, having purchased its assets from the receivers, which they assumed would include the Trident. As pointed out by Classic Car Weekly, both parties would claim legal ownership of the project, but TVR lost out. Last had – no groaning – the last laugh.
Without access to a TVR platform, Last used one from an Austin-Healey 3000, modified to house a Ford V8. This was sent to Fissore for the creation of a convertible, with a plan to show it and a coupé at the Racing Car Show in 1966. Despite a positive response, Last requested further changes, with the final Trident both longer and wider than the TVR version. It also lost its pop-up headlights in favour of fixed units.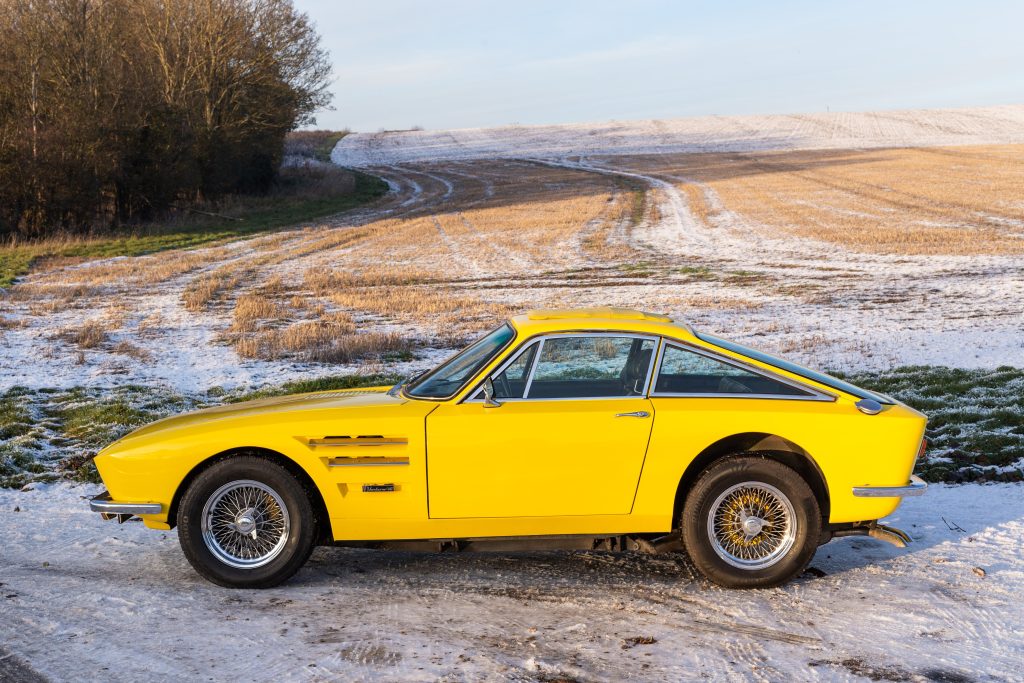 Predictably, not everything went according to plan. Last fell out with Fissore, while the demise of the Austin-Healey 3000 led to the chassis being built by BMC's subcontractor Sankey. Grantura Plastics of Blackpool worked on new moulds for the glassfibre bodies – that must have pleased TVR…
The production Trident V8, later known as the Trident Clipper, was unveiled at London Olympia's Racing Car Show in 1967. In kit form, the Clipper cost £1923 – that's for a car capable of hitting 60mph in five seconds and reaching a top speed of 150mph. However, it was also more money than a Jaguar E-Type with a 4.2-litre engine.
In October 1969, Motor quoted a price of £3456 including purchase tax for a pre-assembled Clipper. For context, the average cost of a house in the UK was £3899; these extravagant prices must have clipped the wings of the Ipswich-based sales team.
In fairness, the Clipper was lavishly appointed, with leather upholstery, radio and electric windows fitted as standard. After a brief drive in 1969, Motor said its appetite was "suitably whetted", saying the company "should have a bright future". It wasn't to be. Just 85 Trident cars were produced before the company collapsed in 1977, having effectively ceased trading in 1972 and despite an appearance at the 1976 Earls Court Motor Show with a federalised Clipper powered by a 6-litre Chrysler V8. The raised ride height and big bumpers did nothing for the styling.
The Trident Car Club knows the whereabouts or fate of around 55 Trident cars and believes that 19-25 are currently on the road. You're most likely to find a Venturer, although it's rare that one comes up for sale, which is why this 1971 example has piqued our interest.
Launched in 1970, the Venturer sat on a lengthened Triumph TR6 chassis with independent suspension front and rear, drawing power from a Ford Essex V6 engine. It's worth mentioning that in 1971, Trident ditched the Ford V8 in favour of a 300bhp 5.4-litre V8 from Chrysler, prompting a new name of Clipper V8 Super. Again, it wasn't cheap, with the flagship Trident retailing at £3398.85 ex-works, plus £851.59 purchase tax.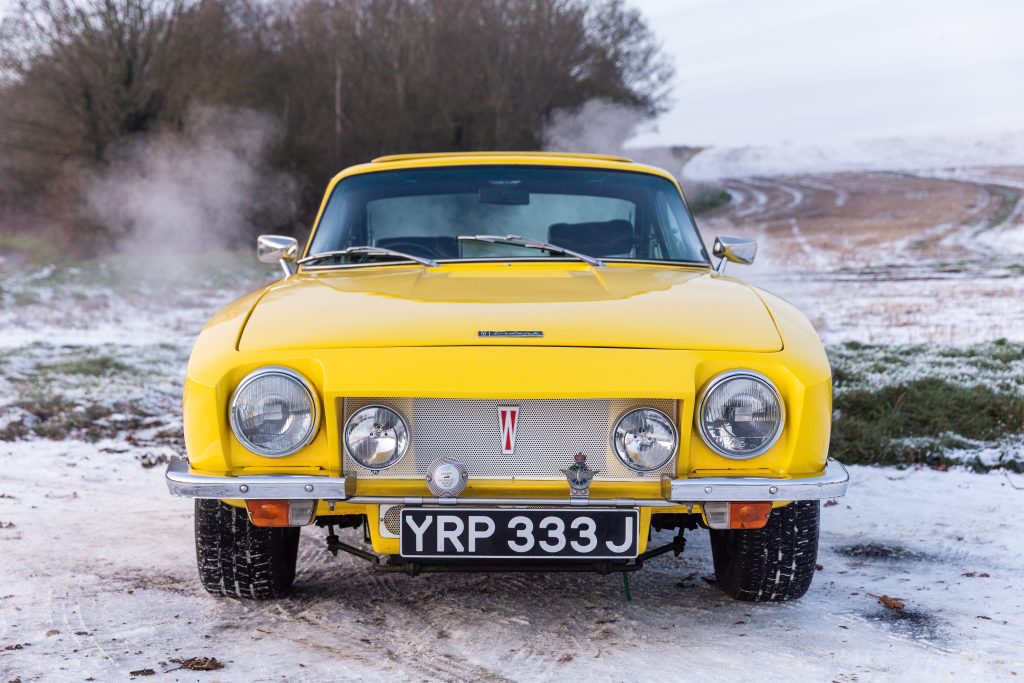 At £2298.75 plus £576.56, the Venturer was significantly cheaper, albeit without the luxuries reserved for the Clipper. There was also a mid-range Tycoon with a 150bhp fuel-injected Triumph engine and automatic transmission, although few of these were ever sold.
Motor wasn't a fan of the Venturer. In a December 1970 group test against the Triumph TR6, Lotus Europa, Lotus Elan SE, Marcos and TVR Tuscan, the Venturer finished last, with the mag saying, "few of its drivers were prepared to try really hard" due to steering that "was so dead as to almost be dangerous on wet surfaces". Ouch.
Eighteen months later, CAR borrowed a dealer demonstrator for 24 hours, which broke down at the height of the London rush hour. Having enjoyed fish-n-chips while waiting for the RAC to arrive, the writer pointed to the "incredibly cheap" switchgear, rattling rear-seat squab and electric windows with "a mind of their own". A new fuse fixed the inoperative wipers, rev counter, indicators and fuel gauge.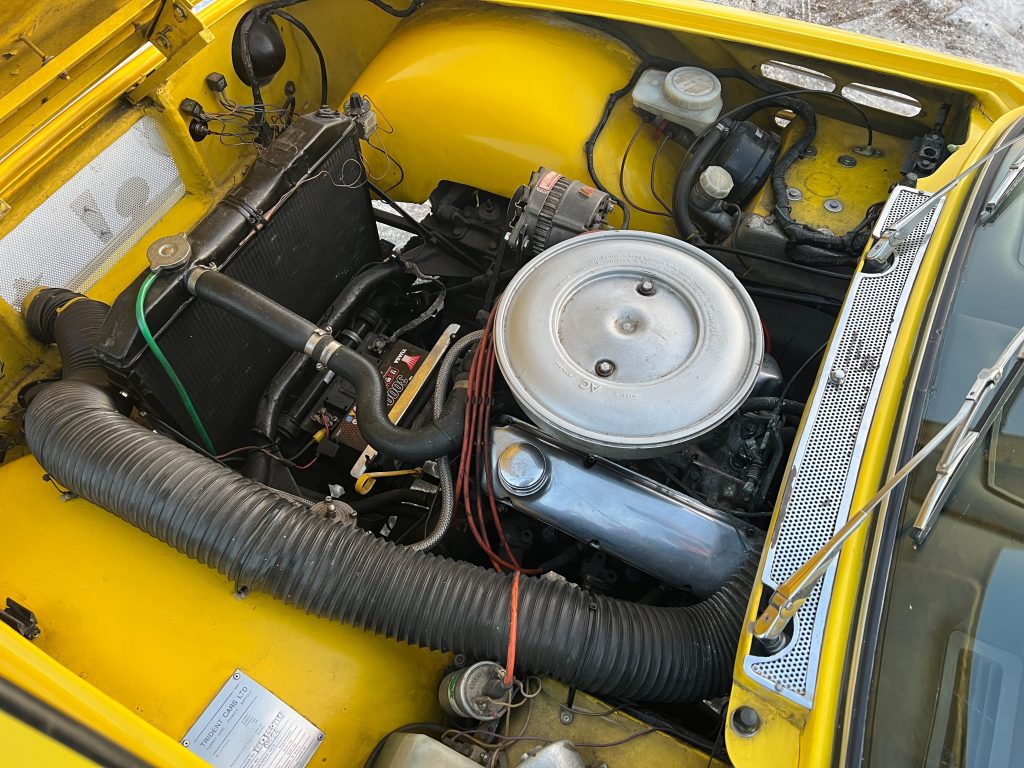 A new piece of hose sorted the overheating issue, allowing the road tester to enjoy the "reasonable but sometimes unsure roadholding" and the "satisfying burble" of "the very smooth V6". He also praised the "handsome body", but his comments about "starlet/models" are probably best left in the 1970s.
There were many subtle detail changes to the Venturer during its production run, including a restyled front end and in 1971 an opening tailgate. Unfortunately, the auction car just missed out on this convenience, so you'll have to get used to loading your overnight bags through the doors. The reverse is true if you need to remove the spare wheel from the boot.
Time has been kind to the junior GT car styling, which offers hints of Triumph, TVR and, if you squint a little, Aston Martin. This particular example for sale was the subject of an Esval scale model, which you can buy for £84.99. It even features the 'YRP 333J' registration number for an extra layer of provenance.
It's also worth noting that a TVR Venturer also participated in the 1970 London to Mexico World Cup Rally, and although 'VAD 30H' failed to finish the race – it hit a rock in Yugoslavia – a little motorsport heritage goes a long way. Well, further than the former Yugoslavia.
When creating the original Trident V8, Bill Last was keen to ensure that parts would be readily available over the counter of a main dealer, so finding spares for this Venturer shouldn't be a problem.
It's a yellow slice of British sports car history and a tantalising glimpse of the Anglo-Italian TVR we nearly got.
Footnote: some sources claim as many as 130 Tridents were built, but research by the Trident Car Club has revised this to 85. That's 30 Clipper/V8s, 49 Venturers and six Tycoons.
Read more
Cars That Time Forgot: Trident Clipper
Cars That Time Forgot: Peel Trident
Join the Club: TVR Car Club