•    Auto123 reviews the 2023 BMW M3 CS.
Ever since it first debuted in the late 1980s, the BMW M3 has been the de facto industry standard for just how far a manufacturer can push the boundaries of its bread-and-butter sedan. It showed you don't need wedge-shapes styling, an engine mounted amidships or the complete sacrifice of creature comforts in order to have a rollicking good ride.
Through the years, it has gained in pedigree, in heft and in horses, with the addition of V8 and twin-turbo 6-cylinder power and AWD. But it has always stayed true to its nature, and it's continued to provide a fantastic drive for a (somewhat) reasonable price.
With this latest version, BMW has turned up the wick once again. While a starting MSRP of $148,000 in Canada it's the priciest M3 we've ever seen, but it's also the fastest and most hardcore example to date.
BMW M3 CS 2023, de profil
Photo: D.Heyman
Design of the 2023 BMW M3 CS – 9.5/10
If you're going to make a lightweight special, you want it to look the part; BMW has done that and more with the CS. From the lightweight gold wheels with contrast Signal Green paint, to the aggressive carbon front splitter and dive planes with matching hood stripes, wing mirrors and roof, this is one sedan that looks the business, all squat and angry and purposeful. Note that the CS doesn't get the manual-lift carbon trunk that its M4 CSL twin does.
Even the sight that greets you when lifting up the lightweight hood leaves little to the imagination. It's not every day you see this much aluminum bracing underhood in a performance sedan.
The real kicker when it comes to the exterior details has to be the yellow tint on the LED DRLs. Canadian law says the whole lens can't be yellow, so you don't get that full-on GT racer effect, but still this looks unlike anything else in the segment and adds some welcome aggression. Plus, it helps distract the eye from the controversial kidney grille BMW sticks on their cars these days.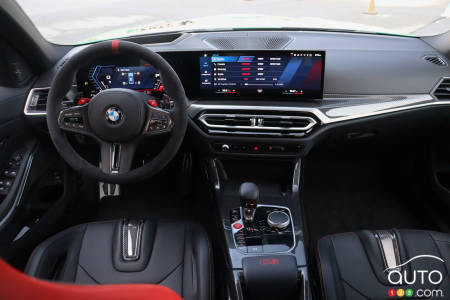 BMW M3 CS 2023, intérieur
Photo: D.Heyman
Interior of the 2023 BMW M3 CS – 8.5/10
The theme continues inside, especially with the fixed-back carbon M sport seats. These shave precious kilograms off the curb weight, and they hold you snug as you move through the turns on your favourite mountain road – or on the track. Note that they really are snug, so a little constraining for wider-hipped users, and they make getting in and out more challenging. When I first slipped into my tester, I had to tilt the steering wheel up and out of the way in order to wedge my way in. it's a shame they are your only choice. Seems strange when even the hardcore Porsche Cayman GT4 offers a number of seating options.
There are also carbon applications on the dash divider, around the gear lever and on the doors. What you won't find is Alcantara suede or leather. Overall, everything is nicely fastened together, tight as a drum with no unseemly squeaks or rattles as you poke and prod the various panels and switches.
If the exterior styling is punctuated by the headlights, the red centering band atop the wheel and matching metallic "M" buttons on the wheel and seat trim do the trick inside. There's a "CS" badge on the centre armrest (more of a "wrist-rest" due to its size); I would like a little more of that labeling, because that badge is the only overt giveaway that this is a particularly special M3.
This being a sedan, it needs rear seats so there's no rear seat delete option or half-cage back there. The seats themselves are the same as in a standard M3, but since the carbon seats get thinner backs, you get a little more legroom. It's still not a car where you'd want to transport full-sized friends and family for any length of time. Not that you'd be buying a track-focused BMW to do a lot of people moving.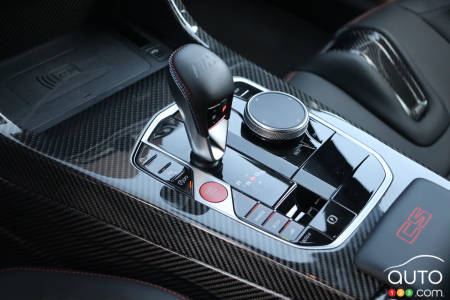 BMW M3 CS 2023, bas de console
Photo: D.Heyman
Technology in the 2023 BMW M3 CS – 8/10
The M3 CS get the latest application of BMW's iDrive infotainment, which provides a wide 15-inch curved display that can be navigated via either touch or scroll wheel/joystick. It also gets a number of M-specific adds such as widgets for tire pressure and xDrive function. CarPlay and Android Auto are available via a wireless-only connection.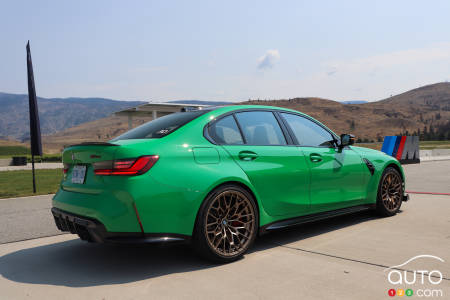 BMW M3 CS 2023, trois quarts arrière
Photo: D.Heyman
Driving the 2023 BMW M3 CS – 9.5/10
…is where all of this comes into focus. Power from the 3.0L in-line 6-cylinder with TwinPower Turbo tech is rated at 550 hp – yes, you're reading that correctly – and 480 lb-ft of torque (up from 473 and 406, respectively, on the M3), set thrashing to all four wheels via the specially-tuned 8-speed Steptronic automatic transmission. It should come as little surprise that there is no manual option, but much as that stings, the way the carbon-fibre shift paddles snap to attention in an almost magnetic way quickly makes you abandon that lament.
Actually, you'll have little time for lamenting or anything else when you dip into the throttle. This M3 springs forth with precisely the kind of ferocity promised by the styling and the stat sheet. 0-100 km/h comes in just 3.4-seconds and if you have the wherewithal – and necessary road – to try it, 200 km/h comes a scant eight seconds after that, on to a top speed of over 300 km/h. These, of course, are not numbers that are easy to track but it really doesn't matter because everything happens so immediately and without inertia that it's easy to believe it's as fast as BMW claims, if not faster.
Somehow, that's not even the best part. That is how all that lightweighting and stiffening – the hood, the carbon fibre – coupled with tweaks to the anti roll bars, camber settings and dampers makes the M3 CS feel as close to a Cayman GT4 – or even a 911 GT3 – as you've ever seen from the model.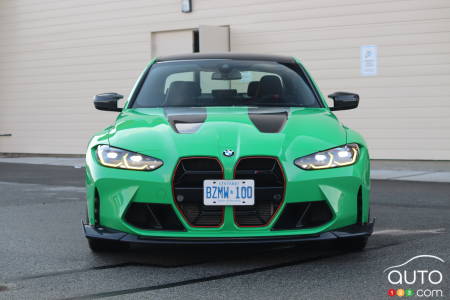 BMW M3 CS 2023, avant
Photo: D.Heyman
The steering is so direct and perfectly weighted – it too has been specially tuned for the CS – that you quickly forget you have another two doors riding along behind you. Left-right transitions happen with precision and control, while the grip provided by the standard and sticky Michelin Pilot Sport Cup 2 rubber is hardly believable and makes the car feel lighter still by helping get all the power down to the tarmac below. We drove the M3 CS on the Area 27 racetrack in British Columbia – a 16-turn, multi-elevation facility that will put any car and driver to the test. A sedan that felt more comfortable in this circumstance I cannot recall.
True, even in the more relaxed drive modes, that stiffness means a less coddling everyday ride, but for most, that matters not because the trade off is an M3 that feels unlike any that came before it. The improvements bring the model closer to the DTM and touring car racers from which it derives so much of its DNA.
Some of your questions about the 2023 BMW M3 CS
Can the M3 CS operate in RWD?
Yes. You'll have to live without traction control, but the xDrive AWD system can be asked to lock out the front wheels.
Is the CS the lightest M3?
The M3 Competition weighs less at base, but it will be outperformed by the CS regardless.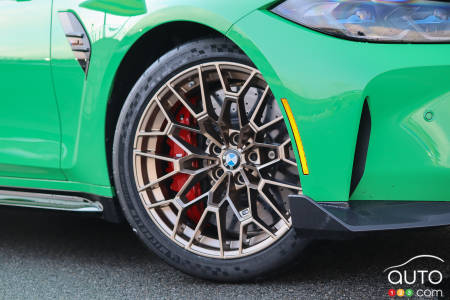 BMW M3 CS 2023, roue
Photo: D.Heyman
The final word
If the M3 was the standard bearer in the segment before, the switch to CS spec sees it attack the throne not just in the performance sedan segment, but in the sports car segment outright. The argument that no matter how well a sedan performs it will never be a sports car may be true as a rule, but I challenge anyone to take a drive in the M3 CS and hold on to their belief that a sports car – or even a track special – cannot have four doors.
The M3 CS is a masterpiece of masterpieces, make no bones about it.
Competitors of the 2023 BMW M3 CS
Mercedes-AMG C 63
Audi RS5
Porsche 718 Cayman GT4